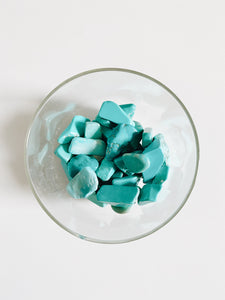 Lion + Lamb the Label
TURQUOISE TUMBLE STONES
Regular price
$5.99
$0.00
Turquoise is a very efficient healer stone. It provides comfort and solace for the spirit as well as support for the physical body.
It is an attractive stone with a very distinctive blue-green appearance as it is often made into jewelry pieces of striking beauty.
Turquoise is one of the most spiritual stones in the world of crystals. It facilitates communication between the physical and the spiritual realms, enhances latent psychic abilities, amplifies intuition, and brings insight and wisdom.
NOTE- Each of our crystals are carefully hand selected. They are treated with love and care and are posted to their new homes in the same fashion
MEASUREMENTS-
Approximately 10c coin in size each 
---
More from this collection