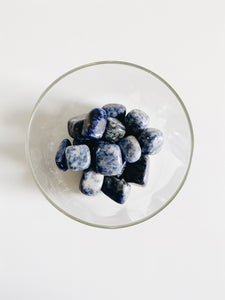 Lion + Lamb the Label
SODALITE TUMBLE STONES
Regular price
$4.99
$0.00
A beautiful tumble stone of ocean blue sodalite. 
 Sodalite encourages being true to self and standing up for your beliefs. Sodalite brings inner peace. A stone of self-expression and confidence, Sodalite can aid in issues of self-worth, self-acceptance, and self-esteem. Sodalite promotes intuition and a trust in one's own judgment, which can be a great ally in daily life. Sodalite helps to achieve emotional balance, releasing old conditioning and programming of the past which no longer serves.
Sodalite is an excellent stone for writers, or anyone creative, as it bridges a conscious connection into the sub-conscious mind. The energy of this stone has the ability to boost mental performance, enhances inner insight and accelerates the ability of intuition. Sodalite healing properties are often recommended for artists who are suffering from creative blocks. But sodalite is really for anybody whose energy seems to be in a lackluster slump.

NOTE- Each of our crystals are carefully hand selected. They are treated with love and care and are posted to their new homes in the same fashion
MEASUREMENTS-
Approximately 5-10c piece in size each
---
More from this collection