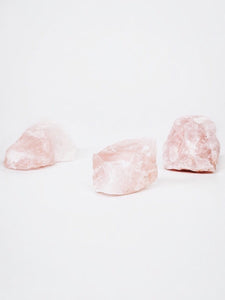 Lion + Lamb the Label
ROSE QUARTZ CHUNKS
Regular price
$9.00
$0.00
Beautiful soft pink raw rose quatz chunks.
Known as a romance stone, Rose Quartz can be used to attract love. Put a piece of Rose Quartz by your bedside table, or in the relationship corner of a room or home to attract new love or to add trust and re-commitment to existing relationships.
Rose Quartz adds loving energy to relationships, bringing calm and peace. The comforting and soothing energy of Rose Quartz can also help heal a broken heart, allowing release of pent-up emotions and grief. Rose Quartz also helps release unexpressed feelings about others
Rose Quartz helps bring about a more youthful complexion; aides in circulatory, heart, adrenal gland, spleen and kidney ailments; alleviates vertigo, asthma and varicose veins; eases problems with sexual frustration and balances the sex drive.
NOTE- Each of our crystals are carefully hand selected. They are treated with love and care and are posted to their new homes in the same fashion
MEASUREMENTS-
Approximately 7cm x 5cm each
---
More from this collection