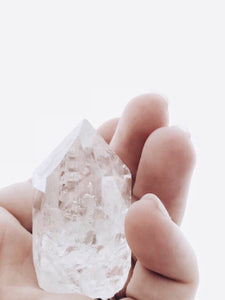 Lion + Lamb the Label
CLEAR QUARTZ NATURAL POINT
Regular price
$12.99
$0.00
Beautiful, high vibration natural quartz points.
Quartz is a power stone. It has been called the "Universal Crystal" because of its many uses. It enhances energy by absorbing, storing, amplifying, balancing, focusing and transmitting. It channels universal energy. Quartz also enhances thoughts, as they are a form of energy. Because it directs and amplifies energy, it is extremely beneficial for manifesting, healing, meditation, protection, and channeling. It is also beneficial for storing and retrieving information of all types, as information is a form of energy pattern also.
NOTE- Each of our crystals are carefully hand selected. They are treated with love and care and are posted to their new homes in the same fashion.
MEASUREMENTS-
Approximately 8cm x 4cm each
---
More from this collection