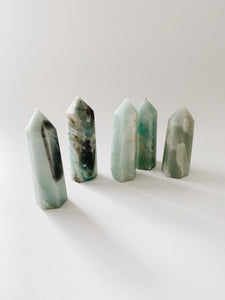 Lion + Lamb the Label
CARIBBEAN CALCITE TOWERS
Regular price
$15.00
Sale price
$27.99
Take a break, kick back on the white sands of the Caribbean. This is exactly how you'll feel with Caribbean calcite in your life. 
Just looking at these pieces instantly lifts your mood. Such beautiful, tranquil energy. 
Also known as Beach Calcite, this beautiful calming stone is for you if you are looking for more liberation and tranquility in your life.
It is perfect for those on a journey of personal growth as it is said to help with an increased sense self awareness and compassion for yourself and others.
Sold individually. Your generator will be intuitively hand picked. 
NOTE- Each of our crystals are carefully hand selected. They are treated with love and care and are posted to their new homes in the same fashion
MEASUREMENTS-
Approximately 7-8cm each
---
More from this collection