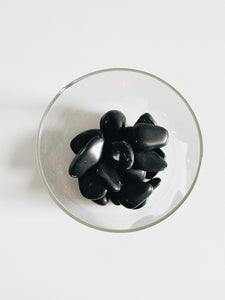 Lion + Lamb the Label
BLACK OBSIDIAN TUMBLE STONES
Regular price
$4.99
$0.00
Beautiful Black Obsidian tumble stones.

Black Obsidian is a powerful and protective and stone, that assists in clearing away internalised anger and reminding us to stay grounded.

Black Obsidian works on shielding you from negativity whilst encouraging you to feel confident and strong.
Black Obsidian is associated with justice, giving the user the strength to say no to what is not right for them or what no longer serves them and respectfully stand up to others when needed.
Often used in cleansing rituals for the home, Black Obsidian will clear out the dormant negative energy and shield from psychic attack.
Use black obsidian in meditation and manifestation to highlight areas of unresolved trauma and allow you to let go.
NOTE- Each of our crystals are carefully hand selected. They are treated with love and care and are posted to their new homes in the same fashion
MEASUREMENTS-
Approximately 5-10c piece in size each
---
More from this collection